High Pressure Water Jetting
All drains within your home lead to the main sewer pipe which is located underground. This pipe runs from your house to a city sewer line. Your main sewer line can become clogged by debris from the drains throughout the house, or by tree roots that penetrate pipe joints. If your main sewer line clogs, it will result in toilets and drains throughout your home to back up. This situation can be stressful and emotional. In some cases, especially if left untreated, it may cause health and safety concerns, as well property damage. Don't hesitate to call InSink Plumbing for sewer drain cleaning at (630)388-5883.
Sewer jetting is the most thorough drain and sewer cleaning tool availableInSink Plumbing's high pressure sewer Jetter uses 4000 psi. to clear clogged drains, sewers and sanitary lines offer:
2″ to 6″ diameter sewer lines will be cleaned & flushed
Up to 200′ of pipe cleaned from one access
Remove tree roots and other obstructions and blockages from sewers
Give you a better warranty against future blockage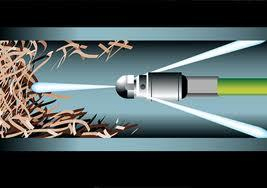 Frequently Asked Questions about Hydro Jetting:
The number one question to most is, how long will the Hydro Jetting last?
Basic snaking or power rodding could last only a few days or it could last months. It's hard to tell and it is not a 100% solution to drain stoppages.
Will Hydro Jetting damage my pipes?
The simple answer is no, on the condition your piping is in good shape to begin with. Remember, Hydro Jetting is the only proven method of actually clearing the inner walls of your drain piping system. Galvanized piping is the traditional piping used in most houses built before the early 1970′s. Let's imagine a pipe being used for sewage and water that's been in place for 40+ years then let's add a liquid drain cleaning element (acid) to the old metal pipe. Needless to say, this is not a good mixture for maintaining the integrity of the pipes. In most cases, what you end up with is an old rusted pipe that the acid has eaten through. If the piping is in decent shape, Hydro Jetting is the most cost effective way of cleaning the drainage piping without going to the expense of demolition or replacement.
What's Next?
Remember, InSink Plumbing technicians use a Hydro Jet for cleaning drains frequently. We will take care of your sewer drains and get them as clean as they can be so they flow freely. Call us today at (630)388-5883. We will respond quickly to schedule your service or simply answer your questions.